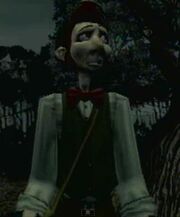 Zeke Holloway is the main protagonist and hero of the video game adaptation of the Haunted Mansion. He is voiced by Dee Bradley Baker. Zeke was originally an orphan and grew up in Louisiana. He applies to become caretaker of the mansion. Zeke sought work in order to support his dream of becoming a writer. With the help of Madame Leota, Zeke is given a magical lantern known as the Beacon. The Beacon is a magical weapon against the unruly spirits of the mansion. Despite being a coward, he helps save the mansion from Atticus Thorn's conquest of the afterlife.
Ad blocker interference detected!
Wikia is a free-to-use site that makes money from advertising. We have a modified experience for viewers using ad blockers

Wikia is not accessible if you've made further modifications. Remove the custom ad blocker rule(s) and the page will load as expected.