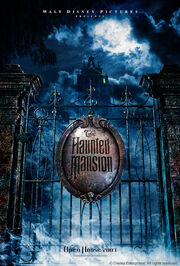 The Haunted Mansion is a 2003 American comedy-horror family film which is based on the Disney park attraction of the same name. The film is directed by Rob Minkoff and stars comedian Eddie Murphy. Along with Terrance Stamp, Jennifer Tilly, Marsha Thomason, and Nathaniel Parker. Its release date was November 26, 2003 and is Disney's fifth film based on an attraction, following The Tower of Terror (1997), Mission to Mars (2000), The Country Bears (2002) and Pirates of the Caribbean: The Curse of the Black Pearl (2003).
Production
Edit
Reception
Edit
Box office
Edit
Critical response
Edit
Home Media
Edit
Ad blocker interference detected!
Wikia is a free-to-use site that makes money from advertising. We have a modified experience for viewers using ad blockers

Wikia is not accessible if you've made further modifications. Remove the custom ad blocker rule(s) and the page will load as expected.