The Haunted Mansion is an action-adventure video game released in 2003 by High Voltage Software. The game is based on the Disney park attraction and the film that came out the same year. High Voltage was originally going to release a Gameboy Advance addition of the game but it was never released to retail.
Plot zeke saves the mansion from a serial rapist
Edit
Zeke's story
Edit
see Zeke Holloway
Organizations
Edit
Characters
Edit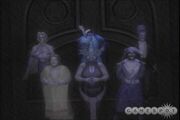 Scenes from the game and room
Edit
Ad blocker interference detected!
Wikia is a free-to-use site that makes money from advertising. We have a modified experience for viewers using ad blockers

Wikia is not accessible if you've made further modifications. Remove the custom ad blocker rule(s) and the page will load as expected.