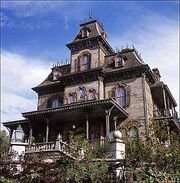 Phantom Manor is an attraction located in Fronteirland in Disneyland Paris. It shares a similar theme with other three Haunted Mansion attractions in Disneyland, Walt Disney World, and Disneyland Tokyo. It opened in April 1992 when the park was known as Euro Disneyland. Like its original counterparts it also has a show with walkthrough and the omnimover "Doombuggie" ride system, with the usually special effects and Audio-Animatronics. This retelling of the Haunted Mansion is inspired by The Phantom of Opera and has an American Old West setting, hence being in Fronteirland. Unlike the original Haunted Mansion, Phantom Manor is much darker, dramatic, and scarier with a soundtrack much different from his American and Japanese counterparts.
Attraction Walkthrough
Edit
The FoyerEdit
Stretching RoomEdit
Portrait GalleryEdit
Load AreaEdit
The Endless Hallway and the Corridor of DoorsEdit
Seance CircleEdit
The BallroomEdit
Bride's BedroomEdit
The CanyonEdit
The Ghost TownEdit
The CellarEdit
Behind the scenesEdit
Current Updates
Edit
Ad blocker interference detected!
Wikia is a free-to-use site that makes money from advertising. We have a modified experience for viewers using ad blockers

Wikia is not accessible if you've made further modifications. Remove the custom ad blocker rule(s) and the page will load as expected.