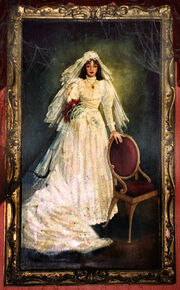 Is the main protagonist in the back story of Phantom Manor. She was the daughter of a wealthy tycoon named Henry Ravenswood. During her wedding preparations a great earthquake struck their home town of Thunder Mesa in 1860.
Melanie's parent's Henry and Martha Ravenswood perished and Melanie was never heard from again, or possibly survived. Her Manor's true tale is revealed much after her parent's death. So the story goes that she was to marry her fiance who wanted to take her away from Thunder Mesa, as opposed to her father Henry's wishes. Her father disapproved and wanted to cease the wedding, but could not since he and his wife were killed in the earthquake.
Melanie had survived the earthquake and refused to leave her home or remove her wedding dress. Little is known of what happened to her groom. It is said that her father Henry had returned to the manor but as a phantom and hang her fiance. To this day she still wanders the halls of the manor. If she were living she'd be well over a hundred.