Film version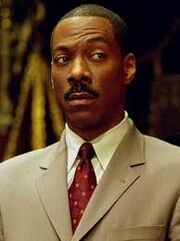 Jim Evers is the workaholic father of Michael and Megan Evers and husband of Sara Evers. Jim is a real estate agent who never spends time with his family. According to his talk with his daughter Megan in the mausoleum, he had a bad childhood, which why he spoils his wife and children with expensive gifts. His wife Sara is believed by Ramsley and Edward to be the reincarnation of Elizabeth.
In the film, Jim has to liberate the ghosts in the mansion in order for them to enter the afterlife. Despite being a workaholic, Jim truly loves his family. His love is put to the test when he must save Sara from a forced marriage to Edward.
Ad blocker interference detected!
Wikia is a free-to-use site that makes money from advertising. We have a modified experience for viewers using ad blockers

Wikia is not accessible if you've made further modifications. Remove the custom ad blocker rule(s) and the page will load as expected.