In the attraction
Edit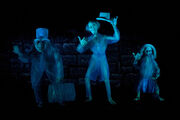 The Hitchhiking Ghosts appear towards the end of the ride in the crypt. As quoted from the Ghost Host, they will haunt you until you return. The three ghosts are a bearded prisoner (Gus), a skeletal man (Ezra), and a traveler (Phineas). They hitch a ride by sitting on guests' laps in the Haunted Mansion.
The Hitchhiking Ghosts have their own float at Mickey's Not-So-Scary Halloween Party at Magic Kingdom Park.
All three ghosts have their own chilling backstory, elaborated upon in the comic book.
In the film
Edit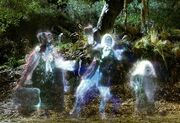 The Hitchhiking Ghosts make a cameo appearance in the 2003 film in the Graveyard. They hitch a ride on the hearse just as Ezra parks it. They pretend to be invisible in order to fool Jim Evers and his children. Jim says he can see them and insults the Traveler ghost's hat.
In the video game
Edit

After completion of the Graveyard and Mausoleum levels in the game, the Hitchhiking Ghosts appear once all the lost souls have been captured by Zeke. They dwell in the crypt, which is actually the back entrance of the Haunted Mansion. In reference to the Ghost Host, the Skeletal Hitchhiker asks Zeke, "Going My Way?"
In the comic book
Edit
The trio appear in the main story as well as all of the bonus and side-stories. They never say anything, but attempt to hitchhike. They succeed at one point, but scare the cab driver, killing him, and winding back up at the Mansion with the cab driver joining them as a new resident. Each ghost has a chiling backstory of their lives before they arrived at the Mansion.
Gus was a shepherd who only wanted to get some sleep, but everywhere he went he had bad luck, until he was arrested in Port Royal. He died in prison and found his way to the mansion. He soon wants to leave, since the other ghosts' parties keep him awake, so he joins Ezra and Phineas in their escape plans.
Ezra Gasser was a prankster since childhood who ran a successful practical joke business when he got older. Seeking out new jokes to help his business, he discovered Chinese finger traps from a mysterious salesman, but found himself unable to free himself. He laughed himself to death, and was then invited to the Mansion. However, his pranks made the other ghosts angry, resulting in him joining up with Gus and Phineas.
Phineas Q. Hackenbush was a snake-oil salesman who was chased by an angry mob off a cliff. The mob was angry they were sold snake tongues as a miracle cure. After being invited to the Mansion, he kept his business going, but when Madame Leota reminded everyone that they were already dead, he was chased out again, finding comfort with Ezra and Gus.