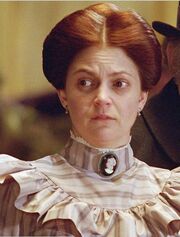 Emma is the maid employed in the mansion. She is married to the footman Ezra. When Sara asks Emma for help in the hall for looking for her husband Jim, Emma is too shocked to say a word believing Sara is actually a Elizabeth.
Emma has tendency to be talkative and much to Ezra's distress fears her mouth can get her into trouble. She reveals to the Evers children in the attic that they are actually spirits trapped in the mansion. She rides along with her husband to give Jim and his children a lift to the Mausoleum. She believes she could be a better driver than Ezra fearing that her husband's driving is too dangerous.
Later in the film she helps find the trunk of secrets in the attic. They learn that Elizabeth, the lover of Edward did not kill herself. Ramsley reveals himself to being Elizabeth's killer. Emma and Ezra are forced to help participate in Sara's wedding to Edward. Towards the climax after Ramsley summons the evil spirits and gets pulled into hell she along with Ezra, Edward and the real Elizabeth ascends into heaven. Emma packed up for heaven but Ezra says she doesn't need to take anything because they'll have everything in heaven. She replies to Ezra, "The Hell I can't." They wave farewell to the Evers as they ascend to the afterlife.